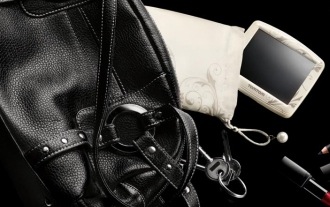 We've all heard men and women drive and read maps differently (both have their faults) and that despite all the business talent out there, gagdets are still mostly marketed to men. When electronic products are aimed at women, oblivious marketing people make the thing pink and call it a day.
Dutch GPS brand TomTom decided to jump on the marketing to women bandwagon and came up with the White Pearl, based on the TomTom ONE IQ Routes edition, but a bit different. It's more luxurious and has 'special content' for women.
I've used a TomTom often because when I passed my Dutch driving licence this year, we had to use one as part of the exam. By the way, they axed that part of the exam, as we memorised the three routes and ignored the GPS. Basically, driving instructors all bought thousands of TomToms for nothing.
The White Pearl has a matching silk pouch that fits easily into a handbag. It has a 'Help Me!' menu and even tells you what lane to be in when things get hairy. The 'special content' includes categories that are in English in the Dutch version as well such as "Places to be seen", "Shop 'til you drop" and "Everyday fashion".
The look appeals to me, no question. The content is clearly for "girly girls", the kind that can't even a change bike tire and wear high heels all the time. At least, that's the very icky vibe I get from it. The special content I find insulting and useless, and I know my Dutch girlfriends will totally agree. And they're the kind of women that drive big motorcycles, kick board of director ass and still look cocktail ready come happy hour.
Of course, the darn thing is more expensive than the regular model: 199 euro instead of about 120-150 euro, and will be available in mid-June. So I'm not sold at all, I find it insulting at first glance, but I would accept it as a gift.
And then the jokes:
– Does it feature a man's voice that says, "Hey doll, fix your hair and let's roll!"
– Turn right! NO THE OTHER RIGHT!
UPDATE: Marketing to women means finding out from women what they want, not guessing or letting men fill in the blanks. It remains a mystery why something so simple is so difficult to understand.
(Link and photo: rtl.nl, gadgetrider.eu)