24 oranges at the Tour finish line!
While the doping scandals rage on, the show must go on – and it did. Just watching these guys whiz by is enough to make you forget everything and enjoy the colourful peloton being cheered on by all those people in downtown Paris.
It's slightly OT, but our very own Orangemaster was at the finish line of the Tour de France on the Champs-Élysées in the pressbox taking pictures and filming! Here is a sample.
A huge thanks to Philippe and Jean Michel, two French radio announcers who made this possible and made me remember what the Tour is really about – cycling.
Oh, and for the Dutch fans, everybody thought it was great to see the rest of the Rabobank team race and not abandon the race for one "bad guy". In my press guide of the Tour, former cyclist Bernard Hinault was quoted as saying, "every year, I say the same thing: they (Rabobank) have a solid, homogenous team that can score on the straights and in the mountains."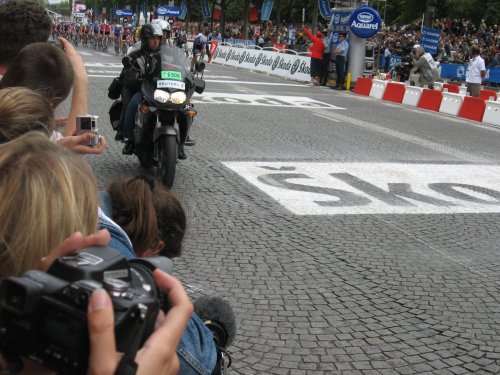 Daniele Bennati crossing the finish line, winning the Champs-Élysées stage.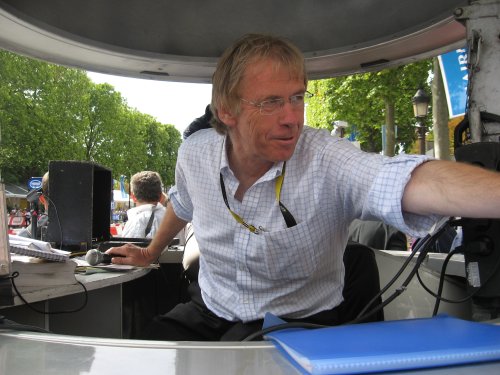 "La voix du Tour" (The voice of the Tour) since 1974, Daniel Mangeas, very friendly and took a few minutes to chat.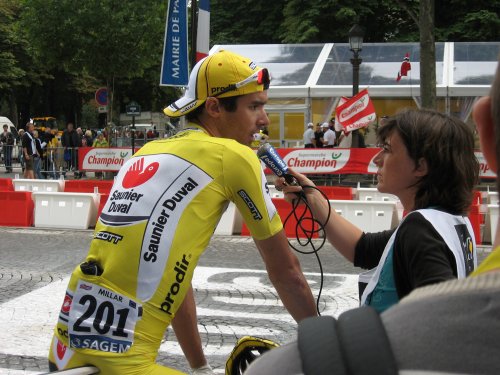 Britain's David Millar, leader of the Saunier Duval-Prodir team giving an interview minutes after the race.