First Giro stage in Amsterdam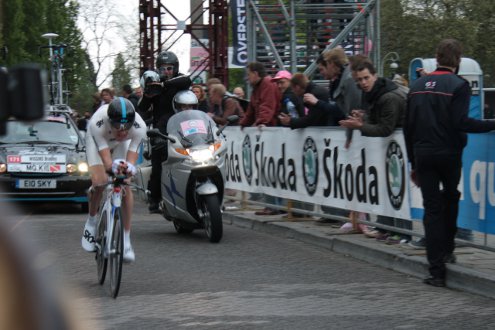 The first ever stage of one of the biggest bicycle racing events in the world, the Giro d'Italia, took place in Amsterdam yesterday. We already reported on the preliminaries.
The first stage was a time trial. According to one of the Dutch organisers in a television interview, the Italian organisers had first wanted to take the stage past all the sights of Amsterdam, including the Anne Frank house, but could be dissuaded (the stage would have completely locked down the city).
Observers thought this would be a good day for David Millar because other time trial specialists have their sights also set on winning the entire, three week-long race. The cobblestones and tram tracks especially would scare them off. Riders like Bradley Wiggins and Alexander Vinokourov weren't too shy on the Amsterdam streets however, and managed to finish first and fourth respectively, with Millar only coming in at sixth place. The main favourite to win the race now that the real champions are all saving their energy for the Tour de France, Cadel Evans, finished second, BBC reports.
According to De Volkskrant, 150,000 people showed up to watch the race. There wasn't a spot along the course though where you couldn't watch, as the rows were only one person deep.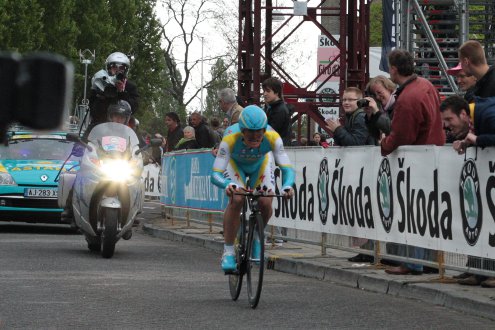 Photo: 'Vino' really wants it, but in the end was six seconds shy of the top spot.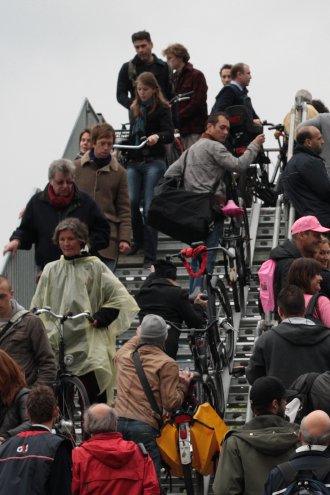 Photo: this is how the Amsterdam cyclist crossed the road. In several spots bridges had been erected across the course.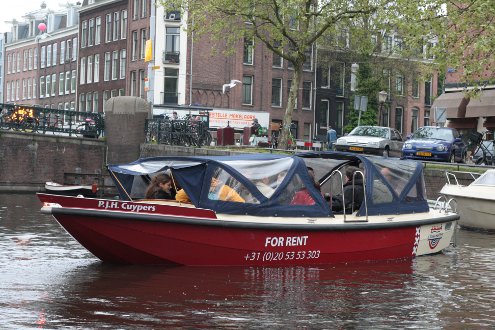 Photo: there were also chartered ferries to take you underneath bridges.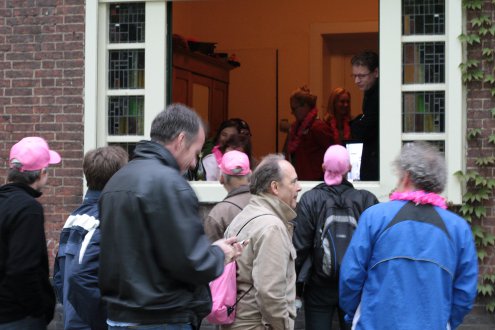 Photo: a family on the posh Apollolaan opened its windows to passers-by so that they could follow the results on TV.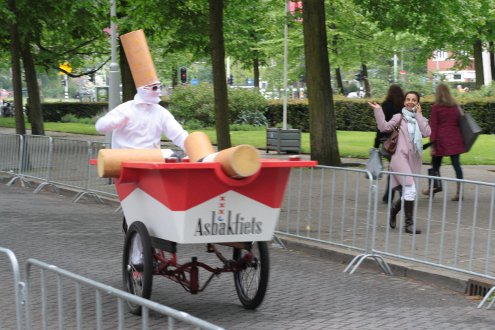 Photo: after the race a wacky bicycle parade had been planned on the official course. Initially the few remaining onlookers were being drip-fed bicyclists.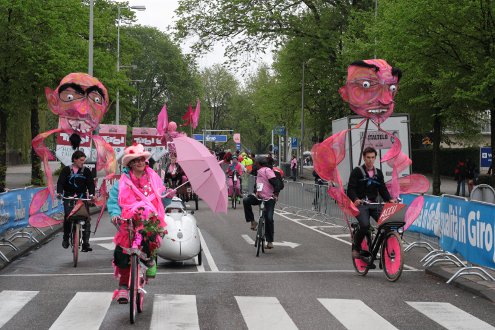 Photo: at the end of the ride was a larger group though, led by 'living art work' Fabiola, and consisting of among others a marching band on bakfietsen and beauty queens on bikes.
I will post further photos to our Flickr account (see sidebar). For more photos see also this report in AD.
Today, another Giro stage will start in Amsterdam, and will take a 200+ kilometre detour to Utrecht. Amsterdam is also the starting point for this year's third Giro stage, which will lead with atypical tailwind to Middelburg in Zeeland.
1 Comment »
The prologue on Museumplein was a great event. I stood back-to-back with Didi Senft, also known as the Tour Devil. Here's my photo report:
http://www.jeroenmirck.nl/2010/05/giro-in-amsterdam/

Comment by Jeroen Mirck — May 9, 2010 @ 2:05 pm