Journalist fined for insulting Queen Beatrix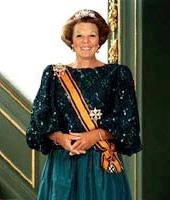 Are you a journalist and bored with the lack of exciting news this summer? Then you too should try and insult the Queen!
A 17-year-old journalist of Spunk magazine was caught together with her cameraman for – you guessed it – insulting the Queen. She was wearing a T-shirt that read "The Queen is a whore" (in Dutch of course). To make her point she also had a T-shirt that read "All moslims are goat fuckers", which refers to a comment made by the late Theo van Gogh to prove that freedom of speech was an issue in the Netherlands, especially with Moslims.
The journalist and cameraman asked passers-by which text was more insulting and while interviewing people, were fined and their T-shirts and film were confiscated. They were also jailed for three hours. And then they made the news.
(Link: rtl.nl)
1 Comment »
The Geen Commentaar blog (translation: No Comment) has an Almost Insult the Queen competition, in which you have to design a T-shirt. The shirt coming the closest to being an insult without actually being an insult should win.

Comment by Branko Collin — August 3, 2007 @ 1:52 pm