The Dutch touch, Bollywood style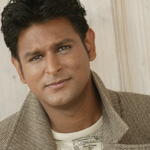 For the first time in the history of Indian film-making, Hindustani-Dutch artists will play a role in an Indian film. Narsingh Balwantsingh (shown here), Fareisa Joemmanbaks and Kiran Sukul will be making their Indian film debut in Saiyaan Chitchor (Eternal Love).
The film in which major Bhojpuri artists Manoj Tiwari and Nagma will be starring is scheduled to start shooting in September 2007 in Uttar Pradesh, Bihar (North India) and the mega filmcity complex in Mumbai. It should be released in December 2007. Eternal Love will be in the Bhojpuri language, spoken by both the Hindustani in the Netherlands and in Suriname.
(Link: wereldjournalisten.nl)
1 Comment »
Hi,

This is a nice blog, shares a lots of useful information

Thanks
Paulina

Comment by Tombstone — April 16, 2011 @ 11:37 am