Dutch singer's dream in danger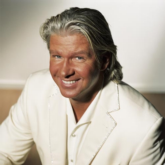 First, Dries Roelvink worked like a madman for decades to finally get his first Top 10 hit, which gave him the opportunity to play at the huge Ahoy stadium in Rotterdam, the symbol of having made it in the Dutch music business. Problem is, ticket sales are not going well. Dries won't play if the place is half full, which is understandible. He needs to sell 10,000 tickets and so far only 2,200 have been sold. On 15 September, Dries will appear on the Paul de Leeuw show (another successful singer, actor and prominent gay figure) and if need be, he'll sing in his bathing suit. The Ahoy concert is scheduled for 28 January 2008.
Dries, maybe you should check out this tribute to the Costa Del Sol from Duo Starla, which I saw live last night and had the entire crowd doing their dance moves. It's original and it's in Dutch. Watch the video, it'll cheer you up.
(Link and photo: fok.nl)
3 Comments »
Baila! Baila! Baila!

Comment by Branko Collin — September 3, 2007 @ 1:45 pm

I knew you'd like it :)

Comment by Orangemaster — September 3, 2007 @ 1:48 pm

[…] the Thorbeckeplein in Amsterdam. Guess who will be giving a special performance for the occasion? Dries Roelvink of […]

Pingback by 24 oranges » World's biggest croquette gets a party — October 7, 2007 @ 6:37 pm