Fake bomb was a planted work of art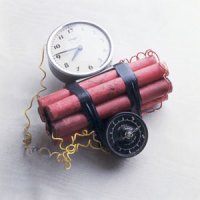 The fake explosive that caused the city centre of Gorinchem, South Holland to be evacuated just before a Rowwen Hèze concert last Saturday was apparently an actual work of art. Thousands of visitors of the Zomerfeesten in Gorinchem and dozens of residents were evacuated from the city centre around midnight once a suspicious package was spotted on the roof of the local museum.
The object that looks like an explosive is part of an exhibition called 'Leven uit een koffer' ('Living out of a suitcase'), which opens on 8 September. According to the museum, artists Marcel Doorduyn and Niek Verschoor wanted to draw attention to the chaos that occurs when a suspicious package is found.
(Link: nieuwnieuws.nl)
1 Comment »
Well at least it wasn't another advertisement for "Aqua Teen Hunger Force".

Comment by anon — September 3, 2007 @ 1:54 pm