Video of tenth Robodock arts & technology festival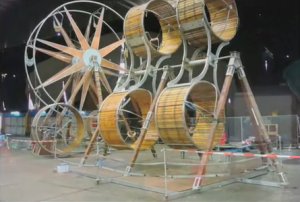 Robodock is an arts and technology festival that was held last weekend at the NDSM wharf in Amsterdam. MAKE magazine (an American magazine on DIY technology) has posted a short clip with impressions on the web. This year was the 10th Robodock festival, and its theme was Rhythm, Time and Transformation.
Photo: screen capture of the MAKE film displaying human powered carnival rides from Belgian group Time Circus.
Other items on display were a small train pulling a bar, a robot drummer, another train that brought its own track along (undoubtedly taking a cue from a Cocco Bill story), power tool drag races and more.
1 Comment »
For those interested, a couple of other bloggers have posted from the festival: http://everydayrotterdam.blogspot.com/2007/09/robodock.html and http://www.invader-stu.com/holland/?p=328