Colour code your first aid kit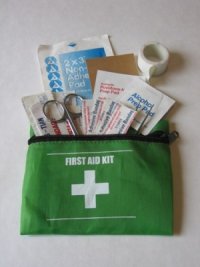 How does that Dutch advert go, "but the answer is allllllways simple?" Two entrepreneurs from Roosendaal and Oudenbosch came up with a colour-coded first aid kit. The code list describes what stuff is used for what. Simple. For the photo of the real thing, follow the link.
The inventors Dick van 't Hoff and Ronald Cleijsen have asked for a patent on the idea. They have also found a manufacturer ready to go to the market with them. The ESE in Veldhoven (aka buyers) will be buying their first aid kits. I love a good business story.
(Link: Omroep Brabant)