Reality show going to the dogs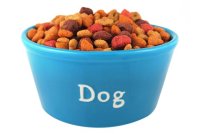 Totally fed up of seeing famous Dutch people (who nobody knows outside the country) ballroom dance, teenagers singing in English in the hopes of becoming American singers (they know what their chances are if they sing in Dutch) or cameras following backpackers in China trying to hitch a ride with no money? There's something new coming up: Holland's Next Dog Model. Look, the name is in English – again.
People are passé, dogs are the new people. The only creatures cuter are babies (debatable), and that would surely open a legal can of worms.
(Link: Spunk.nl)