Rats cannot tell between Japanese and Dutch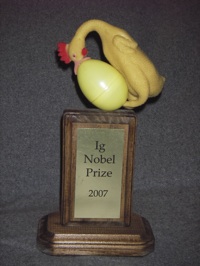 Weird science! The Ig Nobel awards are tongue-in-cheek awards given to the people doing very serious scientific studies that make you laugh before they make you think. Last Thursday, the 2007 awards were presented at MIT in the US.
Prof. Dr. Johanna van Bronswijk of the Eindhoven University of Technology came to pick up the prize she had won in the category biology for doing a census of all the mites, insects, spiders, pseudoscorpions, crustaceans, bacteria, algae, ferns and fungi with whom we share our beds each night. See also "Huis, Bed en Beestjes" (House, Bed and Bugs), J.E.M.H. van Bronswijk, Nederlands Tijdschrift voor Geneeskunde, vol. 116, no. 20, May 13, 1972, pp. 825-31.
Juan Manuel Toro, Josep B. Trobalon and Núria Sebastián-Gallés, of Universitat de Barcelona in Spain, won the award for Linguistics by showing that rats sometimes cannot tell the difference between a person speaking Japanese backwards and a person speaking Dutch backwards. See also "Effects of Backward Speech and Speaker Variability in Language Discrimination by Rats," Juan M. Toro, Josep B. Trobalon and Núria Sebastián-Gallés, Journal of Experimental Psychology: Animal Behavior Processes, vol. 31, no. 1, January 2005, pp 95-100.
Other winners were the US military apparatus for trying to make a bomb that turns its victims into homosexuals (no-one turned up to accept the award); Mayu Yamamoto, from Japan, for developing a method to extract vanilla fragrance and flavouring from cow dung; Brian Wansink of the UK for investigating the limits of human appetite by feeding volunteers a self-refilling, "bottomless" bowl of soup; and more.
2 Comments »
[…] Dutch have won before, we posted about Rats cannot tell between Japanese and Dutch back in […]

Pingback by 24 oranges » Dutch scientists win Ig Nobel Prize for medicine — October 1, 2010 @ 10:04 am

[…] Dutch have won many times before, we posted about rats cannot tell between Japanese and Dutch in 2007 and research on reducing astma symptoms by taking them for a roller coaster […]

Pingback by 24 oranges » Netherlands nabs two Ig Nobel prizes — September 21, 2012 @ 12:46 pm