World's biggest croquette gets a party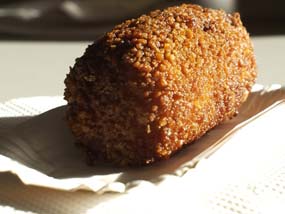 Croquette company Van Dobben has announced that it is going to make the world's biggest croquette. The snack producer has also asked fans what they wanted as filling in it on their site grootstecroquet.nl. The 1,3-meter-long croquette weighs almost 250 kilos and has a circumference of more than 1,5 metres. It will be unveiled on Saturday 27 October, on the Thorbeckeplein in Amsterdam. Guess who will be giving a special performance for the occasion? Dries Roelvink of course!
Have a look at the making of as well.
(Link: vleesmagazine.nl)
No Comments »
No comments yet.