Dutch scientists win Ig Nobel Prize for medicine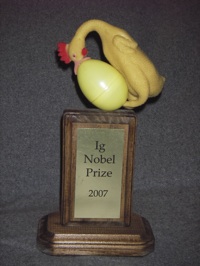 The Ig Nobel awards are tongue-in-cheek awards of Improbable Research, "Research that makes people laugh and then think". At Harvard University in Cambridge, Massachussets yesterday, the Ig Nobel Prize for medicine was awarded to Simon Rietveld (University of Amsterdam) and Ilja van Beest (University of Tilburg) for research on 'reducing astma symptoms by taking them for a roller coaster ride'.
The Dutch have won before, we posted about Rats cannot tell between Japanese and Dutch back in 2007.
(Link: nrc.nl)