Lou Reed to open photo exhibition in Amsterdam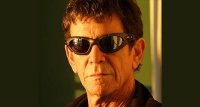 On 10 October, musician, rock singer and photographer Lou Reed will open his photo exhibition entitled "Lou Reed's New York" in Amsterdam at gallery Serieuze Zaken Studioos. The exhibition will be open to the public from 11 October through 15 November.
Why were all the photos from New York in this exhibition? "I think Leonard Cohen had a line, `I would travel anywhere in the pursuit of beauty'. And this is the beauty of New York. I just wanted to take pictures of that, with no other motive than that."
Galerie Serieuze Zaken, Bilderdijkstraat 66 in Amsterdam. Opening hours: Wednesday through Saturday from noon to 6 pm and the first Sunday of the month from noon to 5 pm.
(Link: Persberichten.nl, photo: loureed.nl)
No Comments »
No comments yet.