Donald Duck in Amsterdam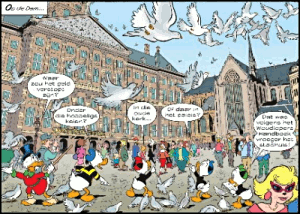 Albeit an American export, the Donald Duck comic is something typically European. For some reason, Donald Duck comics haven't done much in their country of origin. In the Netherlands however, Donald Duck magazine — subtitled "The merry weekly" — is considered the blueprint of how to make a successful magazine. It has existed for well over 50 years, and has always been a hit, not in the least because grown-ups kept buying the magazines for themselves and their children long after they supposedly should have grown out of comics themselves.
Donald Duck's adventures often take place in Duck Town, which is a generic city in the US. Whenever couleur locale managed to creep into a locally produced comic, it would be an exception. But the Dutch magazine is now sending its main characters on the road, and is working on a story that takes Donald, Scrooge, and the three nephews to Amsterdam. Daily De Telegraaf reports (Dutch) that there will be gables, canals, and the royal palace on Dam Square (so-called because it is where the actual dam was built in the river Amstel).
Disclaimer: I have co-written a few stories for Donald Duck magazine myself in the past, but I have no ties to the magazine.
4 Comments »