Let's watch people eat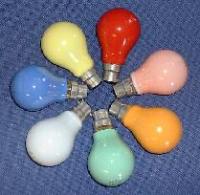 "Does service with a scowl put you off at lunch? Will you eat more greens if you are surrounded by plants? Does romantic, pink lighting encourage you to linger over your fruit salad?"
a) It puts me off all the time!
b) No. What an odd thought.
c) Again, what an odd thought.
"A new research centre dubbed the "restaurant of the future" at the Dutch University of Wageningen hopes to help answer these questions and more by tracking diners with dozens of unobtrusive cameras and monitoring their eating habits. We can ask the staff to be less friendly and visible or the reverse," he said. "The changes must be small. If you were making changes every day it would be too disruptive. People wouldn't like it."
Making changes everyday, like, I dunno, changing the menu?
Has anyone noticed that they have "meatball day" and "fries day" at so many corporate canteens?
Wow. Let's watch people eat, what they don't eat (how's that even possible) and if service (duh!) makes a difference.
"The researchers say they watch how people walk through the restaurant, what food catches their eye, whether they always sit at the same table and how much food they throw away."
Nothing about the actual food they're eating, if they use their utensils properly, if they have bad habits… that would be fun.
(Link: Manorama)
No Comments »
No comments yet.