Dutch company buys Eiffel tower staircase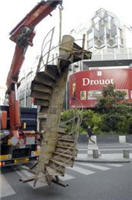 Erik Kurvers, owner of consulting agency Eiffel in Den Bosch, Noord-Brabant, bought this original piece of the Eiffel tower stairs yesterday in Paris for EUR 180,000. Kurvers also happens to be the chairman of the Den Bosch basketball club, the EiffelTowers. The 4,5-meter-high staircase is to be seen as a symbol for the company and club to 'climb higher' (aim higher really, but not miss the hoop). This piece of staircase connected the second and third storey of the original tower of 1889.
(Link: omroepbrabant.nl, Photo: Frogsmoke)
No Comments »
No comments yet.