Anne Frank tree saved by the judge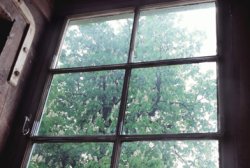 The fate of the Anne Frank tree has been decided, after a judge had a good look at the tree just before making his decision: it may not be chopped down. Remember, it was really sick and hundreds of thousands of euro were spent to try and save it. At 7 pm Dutch time, a judge decided that the tree needs to be healed or fixed and that there are still things that they can do to keep it alive properly. He added that if the tree causes damages to houses nearby, owners will be compensated.
To anticipate the possible cutting of the tree, grafts have been made. And then there's our earlier posting about the chestnuts of the Anne Frank tree sold on eBay. Apparently, they currently have a bid of $USD 10,340, which is pretty useless at this point in time.
The 150-year-old tree (a white horse chestnut tree – Aesculus hippocastanum) stands in the inner garden of the house at Keizersgracht 188, one street over from the Anne Frank House, which is on the Prinsengracht.

Anne Frank wrote the following entries about the chestnut tree in her diary:

23 February 1944
The two of us looked out at the blue sky, the bare chestnut tree glistening with dew, the seagulls and other birds glinting with silver as they swooped through the air, and we were so moved and entranced that we couldn't speak.

18 April 1944
April is glorious, not too hot and not too cold, with occasional light showers. Our chestnut tree is in leaf, and here and there you can already see a few small blossoms.

13 May 1944
Our chestnut tree is in full blossom. It is covered with leaves and is even more beautiful than last year.
(Info: Live RTL 4 television, Photo: annefranktree.com, link: annefrank.org)
3 Comments »
"Apparently, they currently have a bid of $USD 10,340"

Well, the auction is now closed and the final bid was $10,240.
That's 100 less than the alleged bid… and silly me thought the price usually goes up during an auction.

http://cgi.ebay.nl/Grow-your-Own-Anne-Frank-Tree-with-a-chestnut_W0QQitemZ160180273833QQihZ006QQcategoryZ208QQssPageNameZWDVWQQrdZ1QQcmdZViewItem

Comment by Eric — November 21, 2007 @ 10:04 am

Have you nothing else to do? :) Nuts!

Comment by Orangemaster — November 21, 2007 @ 10:09 am

[…] out on the tree when she was hiding for the Nazis, and wrote about it in her famous diary. Lately, the tree has been developing a disease, which led to the foundation deciding to plant 150 cuttings before it was too late. The other 149 […]

Pingback by 24 oranges » Cutting of Anne Frank tree planted near Amsterdam — December 7, 2009 @ 11:41 am