Doutzen Kroes poster girl for Frisian language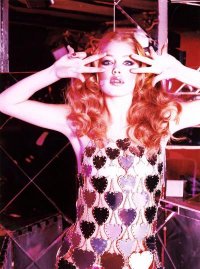 Doutzen Kroes, known as a L'Oréal and Victoria's Secret model, has been asked to use her pretty face to make the Frisian language even more attractive.
The 22-year-old top model will be playing a major role in the campaign 'Praat mar Frysk' (roughly, 'Just speak Frisian') for the province of Friesland, which will be launched next week in Tytsjerksteradiel, according to news website Wâldnet. Doutzen was asked because she can show that she comes from Friesland and speaks Frisian 'beautifully'. The goal of the campaign is to make Frisians aware of their language. Only about 2% of the Dutch population speaks it. And then a few years back, there was that nice duo Twarres who scored an international hit with their song 'Wêr Bisto', which is in West Frisian (the same Frisian I'm on about, as the Germans and Danish have their varieties).
For the folks who thought Dutch was the only official language of the Netherlands, there is also Frisian as well as the regional languages of Dutch Low Saxon and Limburgish.
(Link: reclamewereld.blog.nl)