My co-pilot is my co-pilot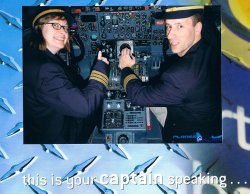 I went to pick up a friend at Schiphol airport and noticed they had a new shop called Planes@Plaza. It has all kinds of plane related knick-knacks, but the best reason to visit the shop is that it is physically built around a KLM DC-9 cockpit and cabin interior, with a huge engine on the other side of the shop. To sweeten the deal, you can have a digital picture of you and a friend taken in the cockpit wearing a cap and uniform, albeit a co-pilot's one (three stripes for co-pilots, four for captains – the photographer knew that as well). And you can keep taking pictures until they get one just right. It costs EUR 5 and comes in a funny paper frame. Even better, while sitting in the cockpit you can have a look around all the buttons, levers and what not of a real cockpit, which does not happen very often. They had to almost drag me away!
The cabin features a film about Amsterdam Airport Schiphol and then there's also a flight simulator game on one of the Playstations.
No Comments »
No comments yet.