DIY download Christmas CD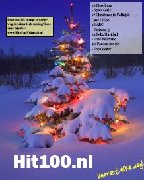 The alternative hit parade hit100.nl has published its second download CD selection, this one Christmas themed. Here's how it works: they select the songs, you download them (perfectly legal in the Netherlands!), they produce a booklet, you print it and burn the CD. Done!
To me these CDs look like the hit parade CDs being sold in backstreet snack bars in Venlo in the 1980s. Those, of course, were illegal under Dutch law.