Paul Faassen: colouring outside the lines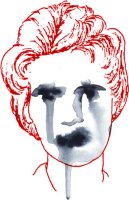 Paul Faassen is a cartoonist who juxtaposes techniques to make a point. I came across his work yesterday when I was reading an article in the online Volkskrant when something in the accompagnying cartoon (no longer available) drew my eye. It took a second but then I realized what it was: the faces of the two men men in the image were drawn fairly realisticly, but the rest of their bodies was sort of sketched in. The drawing reminded me most of connect-the-dot type drawings, where some details are already filled in. But instead of dots there had been empty space, which the child-like artist had filled in.
The rest of his cartoons are like that too. The artist has used the connect the dots idea before, though in reverse: a fully naked man is looking down at his erect … well, what is? Connect the dots and find out (NSFW?). From a photo taken at a beach of a father carrying his son, the father has been erased; the subtitle suggests that the father was a Jew. ("Daddy, am I also one of the chosen ones?" the son asks.) And then he takes it even a step further, and uses an immediately recognisable stereotype of the emancipation of graphic design: a man at cocktail party has had facial surgery, but things didn't come out quite right; the face is all stretched out. Faassen obviously achieved the effect by using the stretch tool in Photoshop. Says the man in the cartoon: "Did it myself! On the computer!"
No Comments »
No comments yet.