Zone 5300, an abundance of bunnies
In issue 81 of Zone 5300 one Eric van der Heijden is giving Maaike Hartjes a run for her money with his own brand of tiny comics, although his intellectual absurdities remind me most of online comic XKCD. A hunter walks up to a giant rabbit, wraps his arm around its shoulders, and tells it with a big grin: "There are too many rabbits here. That's all I am saying. Draw your own conclusions."
There's a four pager by Floris de Smedt where Mr. Bunny (see image above) escapes from his prison and exacts a terrible revenge from Brussels. Luckily Mr. Bunny is no match for The Professor, who has a brilliant brain and ready access to dragon eggs. No bunny can resist eggs!

Illustration by Eric van der Heijden: "Does this make you feel more of a man? Does this make you forget for a fleeting moment that your wiener is tiny?"
Toen ik klein was (When I was young) is a translation of a comic by Mr. Stocca (Milan Pavlovic) about a boy/bunny who has a crush on his school teacher, and then she dies. I love the atmospheric drawings (see below)!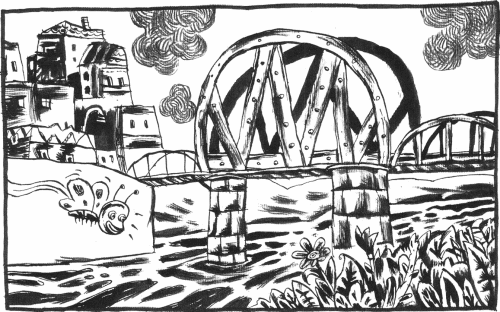 Also: voyeuristic drawings of young women by Barend van Hoek, a look at artificial creatures, and the regulars (Hibou, Cowboy John, Fool's Gold, et cetera).
No Comments »
No comments yet.