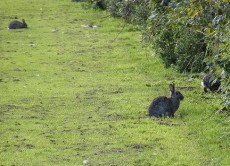 The company responsible for the Dutch rails, ProRail has got the green light to try and do something about the rabbit overpopulation at Amsterdam Sloterdijk station. Some of the rails resting on hills are slowly sinking due to the amount of rabbit holes dug by busy bunnies. The goal is to chase the rabbits out of their holes with ferrets and funny smelling products then plug the holes up.
I travel to Sloterdijk station several times a week by bus, and the sight of the cute brown and black little bunnies always cheers me up. I used to say to myself, if I saw three bunnies, it would bring good luck. Now I see at least 10-12 each time, which means it has to be a rabbit plague by now or I am the luckiest person in the world.
Back in 1999, I worked at a company near Sloterdijk station and could see the odd bunny hoping along a bike path, but I have seen the difference and the rabbits have clearly taken over the station area. I pointed out the rabbits once to a friend who said, "but that's food!', as in yes, we could hunt them and open up a wild game restaurant and feed lots of people.
I don't think these gentle tactics are going to work, as rabbits are solid breeders. They really are cute, though, and I would say close to becoming an urban attraction.
(Link: www.at5, Photo of Wild rabbits by mad snapper, some rights reserved)