Orange lingerie on the football pitch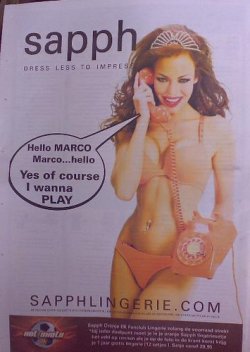 In the Netherlands, during any major football event, we get 'orange fever': everything is coloured orange to match the colours of the country and the football team. It is also a time when any kind of respect for women goes out the window in marketing circles and us broads falls into two categories: scantly clad entertainment during half time on television or kitchen slaves to male friends and family.
Some marketing 'geniuses' came up with this one: "For every point scored by the Dutch team, Dutch women (not Silicon Valley Saphy here) should run onto the pitch in their branded lingerie set and if (only if!) they get their picture in the papers will they win a year's supply (12 lingerie sets) worth EUR 29,95 a set. That's a whopping EUR 359,40 in lingerie that's surely worth less than half that. So roughly speaking, EUR 180 of boring product for running onto the pitch maybe getting into the papers, and making a complete fool of yourself.
1) Bored middle aged white men usually streak at big events, not women.
2) Where's the money? Put some really money on the table, not some pathetic EUR 180 worth of cheap lingerie and we'll think about running onto the pitch. A car, maybe, or a trip for two somewhere.
3) If this works, I almost promise to write another piece to commend your work. If not, we will trash you and your blow up doll.
(Links: bizz.nl and reclamewereld.blog.nl)
2 Comments »
A put her in the cell phone it is (:-)

Comment by Michael — June 9, 2008 @ 4:02 pm