How to replace a football pitch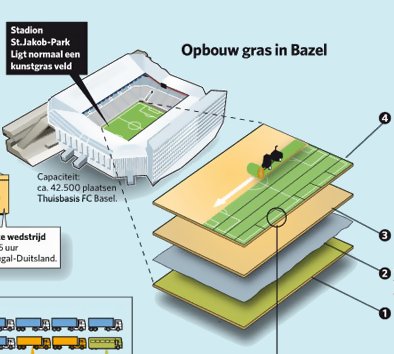 Algemeen Dagblad has a detailed infographic (Dutch) that explains exactly how the football pitch at the St. Jakob Park stadium was replaced just in time for the match Portugal – Germany of last Thursday.
According to the graphic, on Wednesday, June 11 heavy rainfall combined with the match Switzerland – Turkey damaged the pitch that was there to the point that it could no longer be used. Two days later, new grass was ordered. Monday June 16, 25 trucks and 1 bus left the lot of Hendriks Graszoden in Heythuisen Limburg. 23 of the trucks carried the rolls of grass, 2 contained equipment. The bus was for the 11 workers.
After the original grass was removed (revealing the artificial pitch that FC Basel normally plays on), three layers were added: a thin plastic film, followed by a mixture of sand and clay (3.5 cm), followed by the grass (2 cm). A mix of two types of grass was used, one that had to provide cohesion and a second that's good to play on.
Tuesday morning 4 a.m. the pitch was finished, and on Wednesday afternoon Portugal held its first practice session there. Before the match there were some doubts about the quality of the pitch, as it was coloured unevenly and the seams of the rolls of grass could clearly be seen. The match was played without a hitch though—except of course for Portugal, who lost—and afterwards UEFA declared it was entirely satisfied with the results of the operation which had cost them 200,000 euro. According to the International Herald Tribune, this was the first time a pitch was replaced during an international tournament.