Last call before the smoking ban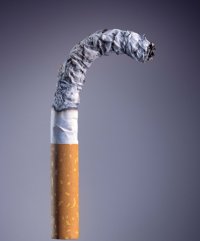 This past weekend in and around Amsterdam and probably throuhgout the rest of the country a number of smoking parties were held where people could smoke just about anything including marijuana and haschsch where normally etiquette dictates that that is more of a coffeeshop thing. A DJ friend over at Ghetto Restaurant on the Warmoestraat played music about smoking and cigarettes, and cigar aficionados had get togethers all over town, if I can believe all the flyers I saw. We all know that the French, Irish, Canadians and Americans all run out outdoors in packs to smoke one, even two cigarettes in a row and then get back to their food and drinks left with the friends who don't smoke. The Dutch also know that tomorrow, 1 July, Big Brother won't necessarily be coming by to check and see if everyone has radically changed their habits.
Predictions are fun when they are not taken seriously, so here are some predictions for the upcoming month as regards the smoking ban.
1) The first major fine from a respectable establishment will make the news.
2) Some places will pay the fines and let people smoke in protest, at least for a while.
3) All kinds of private clubs with membership will cash in, as the ban on them will not apply.
4) Any kind of weirdo initiative will make the news, especially anything related to coffeeshops.
5) More establishments than expected will either close or change hands.
6) There will be clashes between smokers who persist and non-smokers who feel they have won the war.
Let's wait till the smoke clears.
No Comments »
No comments yet.