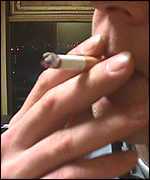 The Dutch owner of café De Kachel in Groningen who fought against the smoking ban and racked up some 20,000 euro in fines has been invited to speak in Scotland about the smoking ban. Back in February 2009 Gerhard Sannes was the first café owner in the Netherlands to be fined for repeated smoking in his establishment, earning him international attention. He runs a small one-person pub and felt pushed to go out of business if he were to apply the ban, which he fought.
In Scotland, some 700 pubs have closed because of the smoking ban. The Scots are interested in the Dutch system, which allows small pub owners, usually self-employed owners with no staff, to allow smoking.
I cannot help but point out the irony of flying to Scotland at the moment, which is not possible because of volcanic ash. But maybe the ash will clear up on time.
(Links rtvnoord.nl, gic.nl)