Bike your house around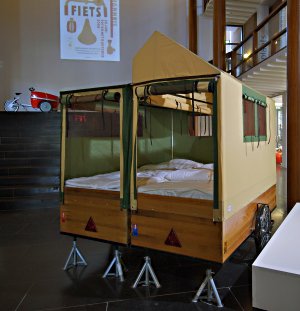 As any European can tell you, nothing says "Dutch" more than caravans … except bicycles. And so it was bound to happen that somebody would try and combine the two. That somebody was design agency Reggs' Thijs Bouman, whose Fietscaravan reached the final round of design competition Het Beste Idee van Nederland last year. Two of these trailers can be connected to form a double bed. For something so small this looks mighty comfortable to me, although I could use some pockets for books and a reading light at the head end.
You can view this trailer and many, many modern bikes at the Designhuis exhibition Fiets, from June 22 to October 5 in Eindhoven. Via Trendhunter, which has also got photos of the bicycle roller coaster that anybody can try at the exhibition.
Photo by Designhuis / Patrick Meis. See also this Youtube video of the bicycle travel trailer.
3 Comments »
[…] See also: Bike your house around. […]

Pingback by 24 oranges » Amphibious bicycle: GBO's Di-Cycle — September 17, 2008 @ 8:26 am

this is great to bad it did not work out. If it did this is the only site that I'm able to find it on other then youtube. no other info on this.

Comment by thepvcbikeguy — July 11, 2009 @ 9:16 pm