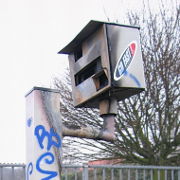 Hundreds of motorists on Dutch motorways have been wrongly fined because of an error caused by speed cameras, according to Dutch news RTL. The government has known of this specific problem of mistaking vans, camper vans and cars with cycle racks for vehicles with trailers, such as caravans, which have a maximum speed limit of 90 km/h instead of 130 km/h on most motorways, since 2009. However, they said it didn't affect enough people to do something about it so they just sat on it.
The software of the speed cameras will be updated after all and people will be refunded even though the government claims that the fines given in error were not that many.
It's nice to see some effective journalism once in a while.
(Link: www.nrc.nl, via www.amsterdamherald.com, Photo by Heiloo Online, some rights reserved)