Old mills being put back to work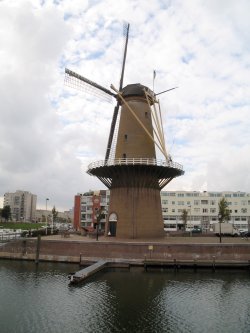 The New York Times is taking a look at old Dutch windmills that are being used again for their original purposes:
Some of the renewed interest in mills is driven by the search for traditional food and drink. Patrick Langkruis, whose bakeshop, Het Bammetje, features 28 different kinds of bread and 35 different rolls, uses only flour ground by a traditional mill. "The taste is fuller, there's more flavor," he said. "It's also because the grains are ground slowly."

His supplier is Karel Streumer, who has been grinding out ordinary and exotic grains for the last eight years at his mill, De Distilleerketel, or distillery pot, in Delfshaven, on the edge of Rotterdam. He uses technology — huge mill stones and enormous wooden gears that make visitors feel they're inside an immense and ancient clock — that has not changed since the mill was built in 1727.
De Distilleerketel caught fire in 1940 during fights between the Dutch army and the Nazis. It wasn't rebuilt until the 1980s after much hemming and hawing. Because of the delay, city planners had already planned houses almost right next to the mill, which was subsequently moved 11 metres, according to the Nederlandse Molendatabase (Dutch).
Photo of De Disitilleerketel by M.Minderhoud, distributed under the GNU FDL 1.2.
No Comments »
No comments yet.