Flower-filled walk in Apeldoorn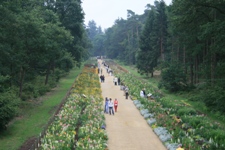 Until August 30 visitors of the Triënnale in Apeldoorn will be able to walk the Royal Mile, a path lined with flowers on both sides. One half of the path contains annual flowers and bulbs, the other half—designed by Jacqueline van der Kloet—is planted with perennials. The organization claims that in total there will be 48,000 flowers and bulbs. The walk is located in Park Berg en Bos, entrance limited to holders of a Triënnale pass.
The Triënnale is a 100-day exhibit of "garden, culture and landscape" in and around Apeldoorn, amongst others in the CODA and Kröller-Müller museums, the Het Loo palace and National Park Hoge Veluwe, each location worthy of a visit by itself.
Via Blik op Nieuws (Dutch). Photo: Triennale.nl.
No Comments »
No comments yet.