McDonald's denies "cheese crime" allegations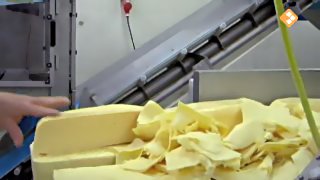 In an episode broadcast last week the children's version of consumer watchdog show Keuringsdienst van Waarde reported that many fast-food chains use fake cheese for their meals, what the voice over calls "cheese crime". The programme's test centre revealed that the "cheese" of a McDonald's Cheeseburger contains "30% non-cheese elements." McDonald's and New York Pizza responded quickly and denied the allegations. McDonald's said that to the contrary, it was the TV show that was misleading, not the American snack food giant.
So-called cheese analogues are used to emulate cheese in a wide range of products, such as pizzas, cheese soufflés, hamburgers and so on. As one manufacturer put it: "[Cheese analogue] is to cheese what margarine is to butter." And another: "A real analogue does not contain any cheese at all."
Cheese-substitute is often mixed with cheese waste, so that you cannot tell from the obligatory ingredients list that there's cheese-substitute in a product. The Consumentenbond, a consumer rights organisation, thinks that is irrelevant. It said that creating a false impression of what's in your products is illegal too according to Dutch law.
The video is mostly in Dutch, but because a number of the larger cheese analogue producers are in the UK and the US, some of the most revealing quotes are in English (starting at 05:10).
See also:
Via Zibb.nl (Dutch).