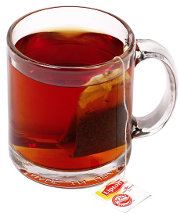 Irony is alive! Lipton is currently running an ad campaign on TV with Dutch beauty Nicolette van Dam telling her fake mother how 'regular' their regular tea is and therefore still tasty. Their regular tea however is anything but regular, Keuringsdienst van Waarde discovered.
Presumably when Lipton says 'regular' it means 'tastes just like the competition's', but consumer watchdog Keuringsdienst van Waarde seemed to suspect something more devious going on. They found little clumps of something that tasted like chewing gum (the flavour expert they consulted narrowed it down to Bazooka—man, that word is a time machine!) hidden among the tea.
After half an hour of fruitless phone calls and visiting experts—the tea expert explained that tea is made of leaves, not of clumps—the solution to the mystery was presented. Lipton apparently adds sugar to its tea to mask its mediocre (perhaps we should say 'regular') flavour. So that is how you can drink tea, no sugar, with sugar after all.
(I wrote down the adjectives in the Lipton commercial by the way, here they are: regular, regular, regular, good, lekker, lekker, regular, lovely, rich, smooth.)
(Photo by Evan Amos who released it into the public domain)