Holiday stress and some story telling relief
First, a very simple yet stressful film of how a cute little shopping street (Haarlemmerdijk) in Amsterdam can turn into a holiday nightmare for trucks, cars (big Volvo station wagons), bikes and pedestrians. Hook yourself up to a stress machine, and I am sure you will score higher that usual. And remember that everybody always does their last food Christmas shopping at the last minute, which this film captures.
Second, to avoid all that stress and having been invited to an exclusive birthday party, I ran off to Munich where 24orange's third lesser known blogger lives, beautifully situated across from the Olympic stadium of 1972. The morning has so far been spent fixing a washing machine because a small, plastic "sombrero" broke off.
The German machine, which was bought in the Netherlands and moved to Germany, broke down in Germany. The part could not be ordered in Germany (!) and was ordered in the Netherlands. The part was picked up in the Netherlands, on holiday from Germany. Hopefully, it can be fixed today.
UPDATEThe washing machine was fixed the next day.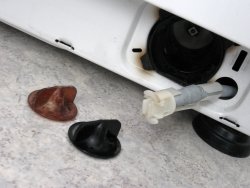 Tomorow get ready for Branko's annual picks of fav 24o postings. Prosit!
(Link: amsterdamcentraal.nl)
4 Comments »