Famous Dutch goalie breaks UK record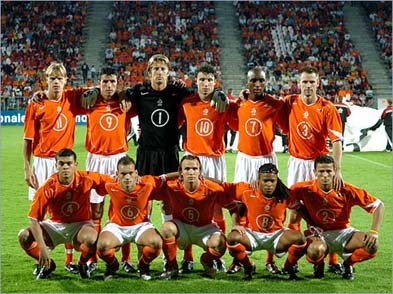 Manchester United goalkeeper Edwin van der Sar has set a new record in the UK Premier League: he has now gone 1,032 minutes – which amounts to more than 11 matches – without conceding a goal, beating the previous record of 1,025 minutes by Chelsea's Petr Cech five seasons ago.
Van der Sar made Dutch news as well this week by moving up from fifth to third place in the list of best paid Dutch sportspeople. The number one spot is held by baseball player Andruw Jones, while the rest of the top ten is strictly a football affair. However, the difference between Jones's annual income (17,000,000 euro) and the number two spot, held by Ruud van Nistelrooy (8,200,000 euro) shows you which sport brings in the real bacon.
And Van Der Sar is the guy in black on the family portrait.
(Links: radionetherlands.nl, sportweek.nl, Photo: minbuza.nl)
8 Comments »