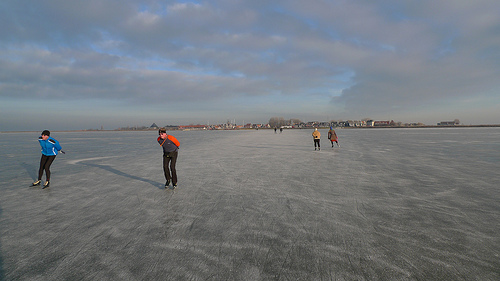 A recent study by HBB Consultancy revealed that the Elfstedentocht, a rare and gruelling outdoor skating race, is a better known and higher valued sports brand in the Netherlands than the Olympic Games, Algemeen Dagblad reported yesterday.
Both events are about as old, but the Elfstedentocht is held on average every seven years, when conditions in Friesland are harsh enough to freeze over 200 kilometres' worth of canals. On the list of strong sports brands, the Olympics only get a peek in at three, after the Elfstedentocht and football goalkeeper Edwin van der Sar.
As for the athletes, Van der Sar is better liked among men, whereas women prefer speed skater Sven 'Svencouver' Kramer.
Although Ajax is rated the top brand among football teams, arch rivals Feyenoord take off with the best appreciated stadium (De Kuip).
(Photo by Remko van Dokkum, some rights reserved)