Third record for goalkeeper Edwin van der Sar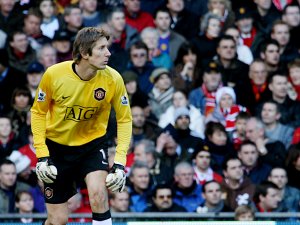 The British record for not conceding a goal is now also in the firm hands of Manchester United goalkeeper Edwin van der Sar. Previously, he had already taken the English league and English professional football records, but until last weekend the British record belonged to Scotland. Van der Sar—who helped his team win 1-0 from West Ham—has now gone 1,212 minutes without conceding a goal, bettering Bobby Clark's 1,155 minutes.
Oddly enough, the English press continues to feel the need to point out that Van der Sar could not have done it without ManU's fabulous back line. You have to wonder whether they would have kept repeating and repeating this obvious fact if the Dutch goalie had been British. Says The Times:
Van der Sar is enjoying a fine season, but to pass 20 hours (1,212 minutes to be precise) without conceding a league goal, as he did at Upton Park yesterday to set a British best, is testament to Manchester United's unblinking confidence as much as the 38-year-old's form.

The most difficult save he was required to make against West Ham was a routine catch from a shot by Lucas Neill. Pruning his roses at 78 will be harder work than that.
The next record in Van der Sar's sights is the big one, the world record, currently held by Abel Resino of Atlético Madrid at 1,275 minutes.
Photo by Austin Osuide, some rights reserved.
8 Comments »