Willy Wonka of weed will win trip to Amsterdam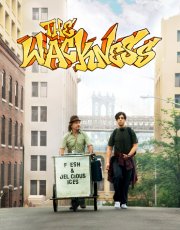 A UK film distributor has started a contest that will see its winner flown to Amsterdam, by plane that is, to collect a bag of marijuana. The distributor, Revolver Entertainment, is holding the contest to promote its film The Wackness.
Writes Revolver:
Yes, you heard us correctly! We're offering the chance for you to win a fabulous weekend break for 2 to the city of smoke itself, the beautiful Amsterdam. But that's not all… the lucky winner will also be able to pick up a complimentary bag of skunk from legendary Amsterdam café, Hill Street Blues.

Hidden within one of the first 1,000 DVDs of The Wackness is a Golden Ticket. Find the Golden Ticket and you win! It's that simple.
Just as mayor Cohen thought he was getting rid of a certain type of British tourist…
Link: BoingBoing. Photo by Sony Pictures.
1 Comment »
Eh. HSB is not a great shop, and your reward will probably be mid-grade shake.

Comment by Darth Paul — February 16, 2009 @ 10:57 pm