Keukenhof flower exhibition turns 60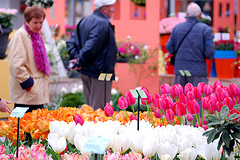 The Keukenhof flower exhibition, what Wikipedia calls "the world's largest flower garden," turns 60 this year. Last Wednesday Queen Beatrix opened this sixtieth edition, according to Blik op Nieuws (Dutch), which is themed 'USA, New Amsterdam – New York, 400' in honour of the claiming of the region by Henry Hudson in 1609, followed 15 years later by the foundation of New Amsterdam, which is now called New York.
Part of the exhibition is a giant flowerbed depicting the Statue of Liberty, which is not in bloom yet.
Photo by Nguyen Dai, some rights reserved.