Leiden researchers develop gel with healing properties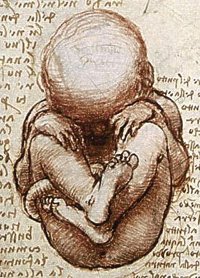 Two scientists from Leiden University, Joke Bouwstra and Robert Rissman, invented a gel that has the same healing properties as "the buttery coating that protects and nurtures a foetus's developing skin," reports New Scientist. Apart from helping premature babies, the 'baby butter' could also be used for other applications. Writes the magazine:
Natural vernix caseosa contains a mixture of fatty compounds that waterproof the foetus. Crucially, it also contains dead cells called corneocytes, which store large amounts of water and ensure that the foetus does not get dehydrated. Vernix may also act as a barrier to infections.

To mimic this versatile substance, Joke Bouwstra and Robert Rissman […] mixed a range of fatty compounds including lanolin, fatty acids, ceramides and cholesterol with particles made of a water-storing hydrogel. When they rubbed this white cream on mice missing a patch of their outer skin, the mice healed three times faster than untreated ones, Bouwstra says.
Illustration by Leonardo da Vinci. Somehow I cannot remember the Florentine one mentioning "baby butter."
No Comments »
No comments yet.