Man arrested for having insulting, tattooed abbreviation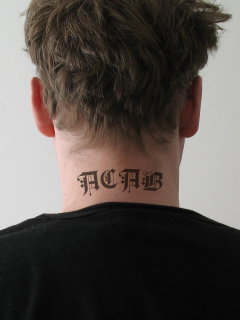 – "Officer, officer! You have to arrest my neighbour, Mr De Vries."
– "What has he done wrong this time, Mrs Jansen?"
– "He's whistling dirty songs!"
The following news made me think of this old Max Tailleur (Dutch) joke:
A man in Groningen was arrested last week for wearing an insulting tattoo, according to Dagblad van het Noorden (Dutch). Written on the man's neck were the letters ACAB, and the police assumed this abbreviation stood for All Cops Are Bastards. Some mothers do 'ave 'em, eh? The man first stated that he had his neck tattooed after spending some time in jail, and later added that the abbreviation meant "acht cola, acht bier" (eight colas, eight beers).
Insulting a civil servant, including police officers, is a crime in the Netherlands (article 267 of the criminal code).
Photo: montage.
Update: another man got convicted in February for wearing a jacket with the text A.C.A.B. The court had a rather curious opinion (Dutch), in which it held that the number of Google hits that linked to page in which ACAB was used as All Cops Are Bastards was evidence of the popularity of the term.
6 Comments »