Too many people on vacation threaten Queen's Day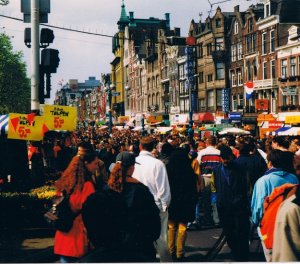 Since many families will be going away for two weeks (!) in May as school is out, some towns will not have enough volunteers to help out with all those Queen's Day activities. Queen's Day falls on Thursday, 30 April and many people will take Friday, 1 May off, which is not a holiday (Labour Day) in the Netherlands. Then they're off to foreign countries with their caravans for two blissful weeks. Two weeks!
Although more people will stay home because of the recession, newspaper AD says many towns like Aerdenhout and Haarlem cancelled some Queen's Day activities and sports events because they can't find enough volunteers. Boo hoo hoo: two predominantly white, rich cities can't find volunteers because the really rich folks will be gone. I will be working very hard both days, find out more here under 'Upcoming'). Co-blogger Branko will be selling stuff on the country-wide flea market instead of buying this year and I promised to keep the coffee coming before working until 5 am the same evening.
The Royal Dutch Automobile Association (ANWB) estimated that about 450,000 people will be taking off. Do they all come from upscale Aerdenhout and Haarlem, and Rheden near Arhem, which I am assuming is white and loaded as well?
For those who don't know: Good Friday (10 April) and Easter Monday (13 April) are days off, then comes Ascension (Thursday, 21 april – people often take Friday off too), and if that wasn't enough for you, there's Whit Monday (1 June).
And next year, Liberation Day (5 May) will also be a day off.
Boo hoo hoo.
(Link: ad.nl, Photo: Amsterdam Queen's Day 1996)