Traditional herring feast endangered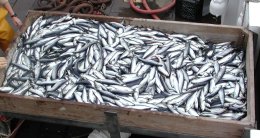 Lack of sponsors may cause the Vlaggetjesdag (Flag Day) festivities of Scheveningen to be cancelled this year, or to be shortened to an actual day, reports Algemeen Dagblad (Dutch). On Vlaggetjesdag the coming home of the herring fleet is celebrated in Scheveningen. Organiser Arie Kleijn is uncertain whether he can raise the half million euro the 62nd edition of the event would cost. Pledges usually come in at the start of the year, but this year he's got nothing.
The commenters at Algemeen Dagblad seem to be happy with the disappearance of Vlaggetjesdag. They question its scale (small), the quality of its entertainment (second rate celebrities) and its cost (half a million for a few stalls?). They also reminisce about the old Vlaggetjesdag, when rather than receiving the fleet, the day was meant to celebrate the departure of hundreds of luggers adorned with many flags. Despite the critical attitude of the vocal readers of Algemeen Dagblad, Vlaggetjesdag rose from 62nd to 29th most popular national event last year, and brought 250,000 visitors to the village wedged in between The Hague and the North Sea.
No Comments »
No comments yet.