Yellow tulip named after Spongebob Squarepants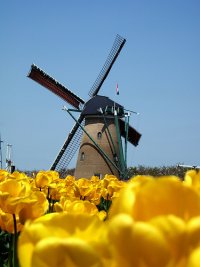 Last Wednesday famous cartoon character Spongebob Squarepants got a tulip named after him in the Keukenhof flower garden. Under the watchful of eye of many a young fan and the great big yellow sponge himself, the flower got baptized with perfectly good champagne by Nickelodeon presenter Patrick Martens.
It took grower Jan Ligthart from Breezand 18 years to develop the tulip, writes De Telegraaf (Dutch). Presumably that time was not spent exclusively on this new tulip, as many companies have already paid the man to do the same. Ligthart told the paper it would take four years for the bulbs to arrive in Dutch stores: "The first bulbs are for the US, because they pay better abroad. It's as simple as that."
(Photo of a totally unrelated yellow tulip by Hisa Fujimoto, some rights reserved.)
No Comments »
No comments yet.