Anatomy of an ATM skimmer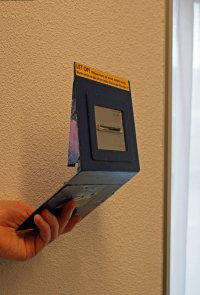 Last December, Paul Wiegmans from Alkmaar discovered an ATM skimming device (Dutch) attached to an NS ticket vending machine (Nederlandse Spoorwegen, i.e. Dutch railways). Being a hacker, he pulled the device loose and photographed it extensively before turning it in to the police. Marvel at the diminutive size of these things!
The Nederlandse Bank estimates that skimming at train stations and banks results in ten million euro in damages per year, reports Algemeen Dagblad (Dutch). The NS told the same daily that approximately two skimming accidents occur per day at its train stations. That's a rather small amount compared to the number of ATM transactions taking place per day there—200,000.
Update: Meanwhile, Salima Douhou and Jan Magnus of the University of Tilburg claim that skimming would become almost impossible if banks incorporated code that would verify the way people type their PIN codes, reports De Telegraaf (Dutch). Apparently, nobody does that quite the same way, making your punch as distinct as your signature. The article unfortunately doesn't mention what the percentage of false positives is with this method, and calls the method "almost unhackable", which in this reality means the same as positively hackable.
(Photo: Paul Wiegmans.)