Museum robbed at gunpoint, two paintings gone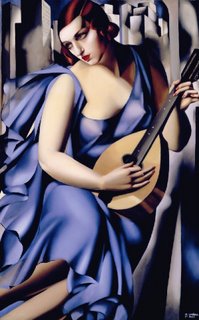 While both parties I worked at the last few days on Queen's Day and on May 1 (Labour Day in Europe, but not in the Netherlands, though people took the day off) had people talking about a major incident involving a car ramming the Queens' visit and killing five people, other weird things have been happening.
Around noon yesterday, masked people robbed the Scheringa Museum in Spanbroek, North Holland around noon. The robbers made off with two paintings, one by Salvador Dali and one by Tamara de Lempicka. Luckily, no one was injured, but they were threatened at gunpoint, and the police have no leads. They do, however, claim that the theft was specific, as the loot was Dali's 'Adolescence', a gouache from 1941 and 'La Musicienne' by Tamara de Lempicka, an oil painting from 1929 (shown here). And yes, they are very valuable.
(Link: depers.nl, Photo: postdam.blogspot.com)
1 Comment »
[…] in May, we told you about the Scheringa Museum getting robbed at gunpoint. That's right, the museum named after Dirk Scheringa, art collector and owner of the museum […]

Pingback by 24 oranges » Scheringa museum half empty and free to visit — October 22, 2009 @ 8:01 am