Meteorology site for outdoor cafes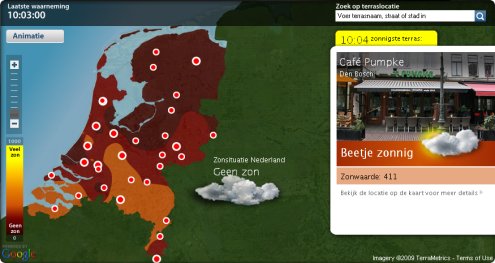 Maastricht beer producer Wieckse, perhaps best known for its white beer, has started a website that will show you how sunny it is at many sidewalk cafes in the Netherlands. Called zonneradar.nl, the website also tells you where you will find the sunniest sidewalk cafe in the Netherlands of the moment. White beer is especially popular during sunny weather, according to Wikipedia, because it lacks the distinct hoppish flavour that is present in other beers.
Weather woman Helga van de Leur told Bright (Dutch): "The weather in the Netherlands isn't as bad as people often think. Research shows that two-thirds of the population underestimate the amount of sun hours. You just have to know where it shines." Not in Moscow, right now.