Netherlands beats England at cricket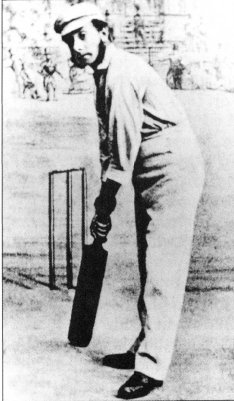 No idea how special this is, but the Netherlands beat England at cricket, at the Lord's cricket field yesterday—which apparently has a special place in the hearts of cricket fans. At some time during the match, The Times thought the game was in the bag for England and wrote optimistically: "Luke Wright scored a scintillating 71 as England set the Netherlands 163 to win the opening match of the World Twenty20 having been put in to bat under leaden skies at Lord's."
The tone of the press changed considerably later on as the game turned, suggesting that Twenty20 was just a young upstart version of real cricket, and that England hadn't brought their best form. England scored 162-5 against the Netherlands' 163-6, and that was, as it seems, it. "It took 125 years before we could experience something like this," Dutch cricket association chief Marc Asselberghs told Algemeen Dagblad—though that appears to have been in reference to the luncheon before the match.
The only thing I know about cricket is that according to the Hitchhiker's Guide to the Galaxy, it's the rudest invention in the universe. (Oh, and what Jiskefet says.)
To the inhabitants of Albion who would like to reclaim some lost ground, there's always fierljeppen, kaatsen and klootschieten (although the Germans rule the latter). Also, I am pretty sure the korfballers would be over the moon if anybody took some interest in their sport, one where the world championships are seemingly decided between Belgium and the Netherlands each year.
Link tip: Jon.
3 Comments »
Netherlands played great.They deserved it.Keep it up

Thanks

Comment by Abhijith Babu — June 6, 2009 @ 12:20 pm

The Netherlands did very well to hold their nerve at the end and pull off the win. It was very very very close. They needed 2 runs off the final ball and through England incompetence, they got it. England had several chances to finish them, but the Dutch played through and took a shock but well deserved victory.

Comment by jon — June 6, 2009 @ 10:21 pm

[…] was world sports news we couldn't ignore: Netherlands beats England at cricket and all kinds of records broken by Dutch goalkeeper Edwin van der Sar (the roll went on into March […]

Pingback by 24 oranges » Orangemaster's favourite postings of 2009 — January 3, 2010 @ 1:08 pm