Fish sitters at Schiphol airport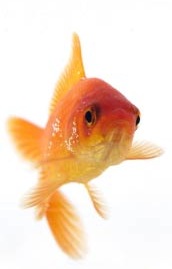 Schiphol Airport (aka Amsterdam Airport for those of you who 'break their tongues' pronouncing 'Schiphol' – try 'Shrip-pole' – there, see?) has just opened up a goldfish hotel so travellers can have their fish taken care of while they fly away to warmer pastures. The hotel was the brainchild of well-known travel agent D-reizen and was opened by Olympic long-distance swimming champion Maarten van der Weijden.
The aquarium looks like a hotel, with a tennis court and a pool with a slide. "Goldfish dropped off by travellers will get private suites, so that they don't get mixed up or get sick," says D-reizen director Steven van Nieuwenhuizen. And if a fish happens to die while its owners are away, D-reizen will make sure they will be able to take the real dead one home, regardless.
(Link: nrc.nl)